The COVID-19 pandemic hit our schools, our city budget, our businesses and our residents hard. The City of Santa Clara's COVID-19 website
On Jan 9th, 2021 the Regional Stay at Home Order was extended indefinitely because ICU bed availability is only 3% in the County. The Order will stay in effect until the ICU bed availability is greater than 15%.
Here are some resources which may help you:
Second-round of Federal Economic Impact Payment checks starting Dec 30, 2020. $600 for individuals or $1,200 for married couples and up to $600 for each qualifying child. Generally, if you have adjusted gross income for 2019 up to $75,000 for individuals and up to $150,000 for married couples filing joint returns and surviving spouses, you will receive the full amount of the second payment. For filers with income above those amounts, the payment amount is reduced. Check the status of your Payment: https://www.irs.gov/coronavirus/get-my-payment
The U.S. Small Business Administration, in consultation with the Treasury Department, announced on Jan 8, 2021 that the Paycheck Protection Program (PPP) will re-open the week of January 11, 2021 for new borrowers and certain existing PPP borrowers. To promote access to capital, initially only community financial institutions will be able to make First Draw PPP Loans on Monday, January 11, and Second Draw PPP Loans on Wednesday, January 13.
Governor Newsom introduced a $227.2 billion budget on Jan 8th, 2021 which should provide billions in COVID-19 relief. Key COVID related relief items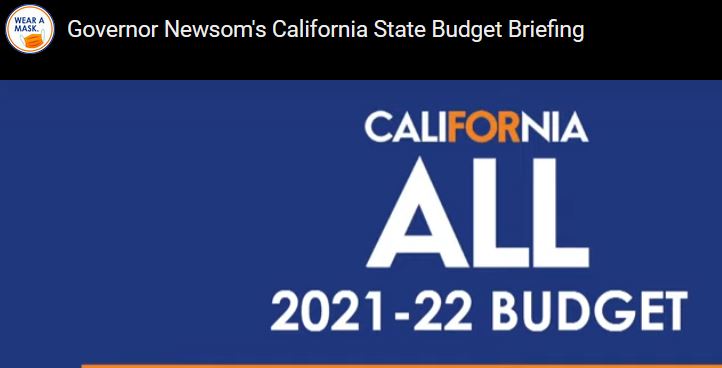 $1.1 B immediate relief for Small Business
$777 M for California Jobs Initiative
$600 direct payments to 4 million Californians
Extension of eviction moratorium AB-3088
Eviction Moratorium/Back Rent:
The current AB-3088 eviction moratorium ends Jan 31, 2021. The Governor's proposed budget extends this moratorium date. If the budget is not adopted, then tenants would have until February 28, 2021 to repay 50% of their back rent, and until August 31, 2021 to repay all of it. details here.
City of Santa Clara Grants to small businesses
As of Jan 10, 2021, the City of Santa Clara Small Business Assistance Grant Program has currently allocated a total of $1,745,000 in grant funds.   
All applications will remain in queue and will be reviewed in the order they were received if additional funds are received. Applications received on April 21, 2020 around 6:00 p.m. are next in line to be reviewed, subject to available funding.
Please continue to monitor the Small Business Resources webpage for additional resources that may become available. 
The State of California has a California Small Business COVID-19 Relief Grant Program, the State's new $500 million grant program for small businesses impacted by the pandemic.  The application deadline for round one of funding for this program closes at 11:59pm on January 13th.  To learn more about the program, eligibility requirements, how to apply and required documents, as well as other resources, join the Small Business Majority on January 11th at 1:30pm, January 12th at 11am, or January 13th at 11am.  The January 11th and January 12th webinars will be hosted in partnership with the California Black Chamber of Commerce and Congressmember Mark Takano, respectively.  To register use the links attached to each date above.
Housing Assistance
The City has an Emergency Rent Assistance Program as well, but the recent application window closed on 1/4/21. There is a waitlist that is currently open and we encourage all residents to apply: (they are transitioning back to the wait list so it may take a couple of hours for the link to go live): www.Santaclaraca.gov/rentrelief
Food Assistance
There is a program called Food for Families that is available for City residents. The information and requirements are on the following page:https://www.santaclaraca.gov/i-want-to/stay-informed/newsroom/food-for-families
City of Santa Clara Website for COVID-19 assistance
https://www.santaclaraca.gov/i-want-to/stay-informed/current-topics/coronavirus-updates
County of Santa Clara Website for COVID-19 assistance
The County has a list of business resources on the following page:https://www.sccgov.org/sites/opa/opa/covid19/Pages/Resources-for-Businesses-and-Workers.aspx
The County of Santa Clara has Rental and Financial assistance available through Sacred Heart Community Services, information and application located here: https://sacredheartcs.org/covid19
County Loan Program for Small Businesses 1/5/2021: https://www.sfgate.com/news/bayarea/article/County-Launches-Loan-Program-For-Small-Businesses-15847866.php
Do you want to volunteer? Join Californians For All
Sort and Distribute Food
Second Harvest Food Bank: https://www.shfb.org/give-help/volunteer/
Cook Meals
Martha's Kitchen: https://www.marthas-kitchen.org/volunteer.html
Give Blood
Donate